HERBAL CHELATOR Artery Cleanser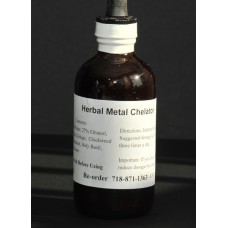 Product Code:
HC
Availability:
In Stock
Price: $50.00

View More About Herbal Chelator
4 ounce. A months supply under normal use. Can use more as needed.
Cleanse Arteries & Improve Circulation With Herbal Chelator
Feel healthier and energized plus prevent or even reverse heart problems with this herbal 'scrub brush' for your arteries.
End or prevent many health problems including:
Heart Disease
Stroke
Arteriosclerosis
High Blood Pressure
Phlebitis
Pulmonary Embolism
Vascular Disease
Mental Decline
Impotence
Varicose Veins
Alzheimer's
Arthritis
Chronic Fatigue
Distilled Water
27% Ethanol
Gotu Kola
Ginkgo
Chickweed
Flax
Stoneroot
Holy Basil
Linden Flower
Write a review
Your Name:
Your Review:
Note: HTML is not translated!
Rating:
Bad
Good
Enter the code in the box below: