SUPER HAIR TRIO Shampoo, Stimulator, Vitamins and Oil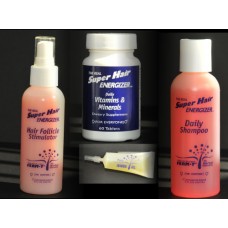 Product Code:
SAT
Availability:
In Stock
Price: $52.00

Try the entire Super Hair System, and in just 2 weeks you can start seeing new hair growth.
Satisfaction guaranteed or your money back.
Super Hair Shampoo - Use daily to condition your scalp for new hair and to revitalize existing hair.
Super Hair Stimulator - Spray on daily to activate hair growth 24/7.
Super Hair Vitamins & Minerals - Take daily to stimulate your internal cells to grow new hair and enrich existing hair from within.
Super Hair Jojoba Oil - Rub a few drops of this premium grade, all natural hair restorer into your scalp along with Super Hair Shampoo for maximum results.
Can Help With Baldness & Revitalize Existing Hair With Super Hair Trio Pak with Firm-T®
Can help to stimulate new hair growth ... even when nothing else works!
Ultimate hair & scalp system can:
Grows New Hair Naturally
Stops Hair Loss
Eliminates Dandruff, Eczema, Acne & Psoriasis
Conditions Hair and Skin
Relieves Dry, Itchy Scalp
Order the Super Hair Trio Pak and SAVE $5!!!!
Write a review
Your Name:
Your Review:
Note: HTML is not translated!
Rating:
Bad
Good
Enter the code in the box below: