5 Silver Water and 1 Ultrazyme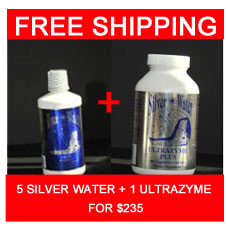 Product Code:
SilverUltra
Availability:
In Stock
Price: $235.00

5 Silver Water and 1 Ultrazyme
View More About Ultrazyme Plus
Ultrazyme Instructions
Destroy Disease-Causing Parasites With UltraZyme
Replace vital enzymes and defeat many health problems ... even diabetes!
Prevent, control, reverse, and end symptoms caused by parasites, including:
Diabetes
Intestinal Disease
Joint Pain
Muscle Pain
Anemia
Allergies
Skin Conditions
Tumors
Sleep Disorders
Chronic Fatigue
Migraines
Asthma
Weight Gain
Epilepsy
We recommend using with Silver Water for maximum health benefits.
End Health Problems Fast With Silver Water
Nature's "pathogen assassin" rids your body of disease-causing microbes on contact ... with no doctor ... no drugs!
Destroy microscopic invaders and get fast relief from:
Pain
Aches
Bloating
Gas
Pneumonia
Sinus Infections
Colds
Sore Throat
Flu
Viral Infections
Allergies
Hay Fever
Ulcers
Chronic Fatigue
Enlarged Prostate
Gum Disease
Bladder Infections
Arthritis
DOCTORS RAVE ABOUT SILVER WATER
"It killed ... every virus tested in the lab."
-- UCLA Medical Center
"I know of no microbe that is not killed in laboratory experiments in six minutes."
-- Dr. Henry Cooks
"... caused major enhancement of both the rate and competency of the healing process."
-- Robert Becker, M.D.
Write a review
Your Name:
Your Review:
Note: HTML is not translated!
Rating:
Bad
Good
Enter the code in the box below: