Vitamin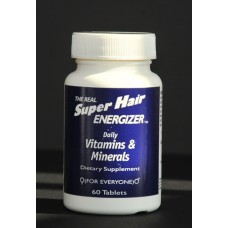 Product Code:
VIT
Availability:
In Stock
Price: $20.00
3 or more $16.67

60 pill count. Good for a month usage
Can Help End Baldness & Revitalize Existing Hair With Super Hair Vitamin with Firm-T®
Can start to stimulate new hair ... even when nothing else works!
Ultimate hair & scalp system:
Grows New Hair Naturally
Stops Hair Loss
Eliminates Dandruff, Eczema, Acne & Psoriasis
Conditions Hair and Skin
Relieves Dry, Itchy Scalp
Use with Super Hair Shampoo and Super Hair Stimulator for Best Results!!!
Order the Super Hair Trio Pak and SAVE $5!!!!
Choline Bitartrate
Inositol
Pantotheric Acid
Magnesium Oxide
Silicon Dioxide
Niacin
PABA
Zinc Oxide
Manganese Gluconate
Copper Gluconate
Vitamin B-12
Chromium Picolinate
Iodine
Folic Acid
Biotin
Proprietary Amino Acid Blend:
L-Glutamic, L-Leucine, L-Aspartic, L-Histidine HCL, L-Proline, Sodium Chloride, L-Arginine HCL, L-Lysine, L-Alanine, L-Valine, L-Isoleucine, Glycine, L-Serine, L-Threonine, L-Phenylalanine, Ammonium Chloride, L-Tyrosine, L-Methionine
Vitamins and Minerals in a base of watercress, onion, tomato, celery, celery seed, spincach, orange peel, parsley leaf, red bell pepper, chili, deodorized garlic, corn oil
Write a review
Your Name:
Your Review:
Note: HTML is not translated!
Rating:
Bad
Good
Enter the code in the box below: