BFV Super Antibiotic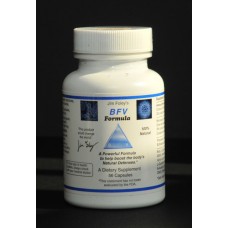 Product Code:
BFV
Availability:
In Stock
Price: $58.00

Pill Count 56. Taken for two weeks as needed.
Natural "super antibiotic" can bring blessed relief & healing -- to many of your health problem -- in just a few days!
Can rid Your Body of Disease - Causing Pathogens
Can help eliminate viruses, bacteria and fungi that cause health perblems including
Urinary Tract
Infection Colds
Flu
Ear Infection
Herpes
Staph Infection
Candida
Sinus Infection
Yeast Infection
MRSA
Respiratory Infection
Lymphatic Infection
Strep
Warts
Lyme Disease
Calcium D-Glucarate
Zinc
Monolaurin
Olive leaf extract
IP6 (inositol hexaphosphate)
Colostrum Powder
Echinacea purpurea root
Garlic Powder
Neem leaf extract
Beta 1.3 glucan
MSM
Alpha Lipoic Acid
L-Glutathione
N-Acetyle L-Cysteine
DMG (Dimethylglycine HCL-D.M.G.)
Other: Gelatin (capsule), cellulose, magnesium stearate and silicon dioxide
Contains: NO yeast, wheat glutin, soy protein, corn, sodium, sugar, starch, artificial coloring, preservatives or coloring.
Write a review
Your Name:
Your Review:
Note: HTML is not translated!
Rating:
Bad
Good
Enter the code in the box below: