Silver Water Gel + 5 Bottles of Silver Water Pathogen Killer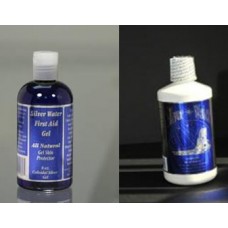 Product Code:
SWGPK
Availability:
In Stock
Price: $205.00

SILVER WATER GEL
The Natural Topical Antibiotic

SILVER FACTS
Colloidal Silver works as a catalyst, disabling specific enzymes that
all one-celled bacteria, fungi and other microorganisms need and use to
metabolize oxygen.... i.e. breathe.
In short, the bad guys suffocate and die shortly after exposure to a
silver colloid.

SAFE, PURE and ALL NATURAL. NON TOXIC!!!!
Silver Water First Aid Gel has been in use since 1986
No known drug reactions or side effects
Can be used for adults, children and even pets.

KEEP IN YOUR FIRST AID KIT FOR:

Abrasions
Scalds, Burns and after sun exposure
Diaper rash and / or chafing
Warts
Bites - Mosquito, Bee, Spiders
All natural shaving gel

Cools and Soothes.
SILVER WATER PATHOGEN KILLER:
32 ounce bottle. Good for a months usage under maintanence. Canuse a lot more for health issues.
Can End Health Problems Fast With Silver Water
Nature's "pathogen assassin" rids your body of disease-causing microbes on contact ... with no doctor ... no drugs!
Destroy microscopic invaders and get fast relief from:
Pain
Aches
Bloating
Gas
Pneumonia
Sinus Infections
Colds
Sore Throat
Flu
Viral Infections
Allergies
Hay Fever
Ulcers
Chronic Fatigue
Enlarged Prostate
Gum Disease
Bladder Infections
Arthritis
Silver Water Gel:
Colloidal Silver, Glycerin-PH-Adjusted Carbomer (vegetable based)
For external use only.


Write a review
Your Name:
Your Review:
Note: HTML is not translated!
Rating:
Bad
Good
Enter the code in the box below: