Digestivezyme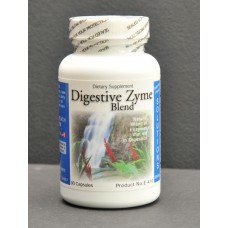 Product Code:
DZY
Availability:
In Stock
Price: $45.00

Pill Count 90. A minimum months supply
Can Improve Digestion for Optimal Health With Digestive Zyme
Say goodbye to indigestion, heartburn irregularity & other nagging health problems ... say hello to more energy and feeling great!
Look great, feel healthier, and prevent:
Indigestion
Heart-burn
Food allergies
Toxicity
Chemical imbalances
Bad disposition
Moodiness
Fullness
Arthritis
Autoimmune disease
Vitamin B 12 deficiency
Chronic fatigue
Eczema
Inflammation
Irritable bowel
Digestive Zyme is the most powerful digestive product available...
• Contains a multitude of the highest quality blend of digestive enzymes!
• The most powerful digestive enzyme product available with over 1,700mg per dosage!
• Aids in the digestion of proteins, carbohydrates, fats, dairy products and the difficult to digest foods such as broccoli, nuts, seeds and beans!
• High in sugar digesting enzymes to handle large quantities of sugars and starches!
Write a review
Your Name:
Your Review:
Note: HTML is not translated!
Rating:
Bad
Good
Enter the code in the box below: